Conservation and energy efficiency is important. Using canvas bags is a great way to Go Green.

When you use cotton canvas bags for shopping you reduce waste and eliminate the need to make and recycle paper or plastic bags. You are saving energy and lots of it! With paper bags the paper making process uses an enormous amount of heat to dry the paper. And, plastic, of course, is made from oil. Neither holds up during reuse. Cotton requires significantly less energy to spin and weave into canvas and is strong, durable and easily reusable. Most of the cost to make canvas grocery bags is labor during sewing.


What Are the Other Benefits of 100% Cotton Canvas Bags?

1. Most larger grocery chains offer a $.05 discount/bag (just ask your cashier). If you use 5 bags a week, you will realize a $13 / year savings...and easily recover the cost of the bags in a two year period...which is a very good Return-On-Investment.

2. Canvas can be machine washed. Remember that canvas will shrink so...use cold water, no bleach, and drip dry to minimize shrinkage. Iron on medium to eliminate wrinkles. Apply spray starch to return stiffness to the canvas.

3. Canvas bags are sturdy and strong enabling you to carry more with fewer bags. No more torn paper or plastic!

4. Canvas bags make great totes for all your vacation and travel things like beach towels, clothing, books and, of course, Christmas presents.


How Do I Pick the Right Canvas Bag?


1. Look for a natural unbleached color. No dyes to fade when washing. And, no cloth finishing treatment to raise material costs and add unnatural chemicals.

2. Pick a normal sized bag...not too small and not too large...bag sizes similar to that of brown paper bags are best. You can carry a reasonable load of groceries without hurting yourself.

3. Check the material type...10 oz. single filled duck is typically used for grocery bags. 7 oz. single filled duck is too thin to carry a load of groceries safely. 12 oz. duck is heavier and is ok for books but probably more than you need for grocery bags. 14.9 oz. duck is also too heavy for grocery bags but perfect for carrying heavier items like books and tools. Duck is a type of weave...much tighter than denim or corduroy weaves. Single-filled is a measure of the tightness of the weave...not as tight as Army duck or Numbered duck but perfect for canvas bags. And, it provides excellent wear.

4. 100% cotton is a completely natural renewable resource...and an excellent insulator. There is no need to purchase special poly-thinsulate insulator bags.


Save energy for future generations. Reduce waste gases.

Reap the benefits of cotton canvas bags for a lifetime.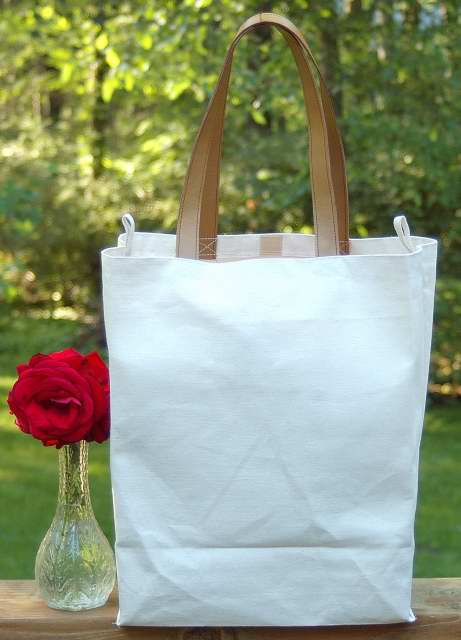 Small bag shown with:
Long 22" leather handles (honey)
Loading station loops
1" x 1" beige velcro at bag top